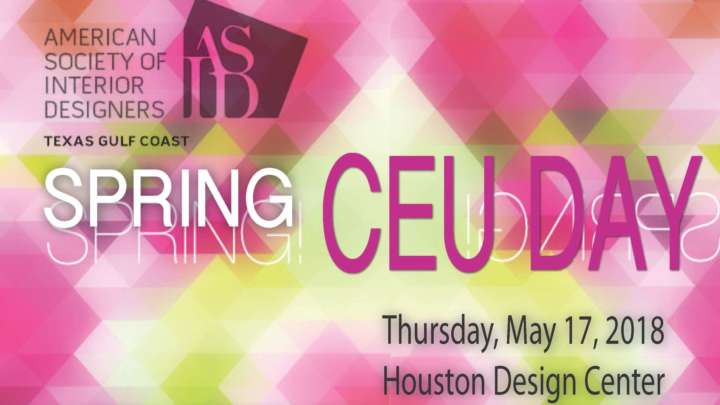 ASID Spring Day of CEU's at Houston Design Center
Description
Plan now for a day full of CEU's at various Showrooms, including lunch!
♦10:00-11:00 @ ASID "Living Large in Small Spaces" Presented by Suly Weismann of BSH Corp. NKBA: BSH-1015 AIA: CES7700 IDCEC: CC-104536-1033
♦11:15–12:15 @ Dream Theaters "Hidden Technology" Presented by Thomas Perry of Dobbs Stanford IDCEC: CC-8190
♦12:15–12:45 Lunch @ Dream Theaters
♦1:00-2:00 @ Thorntree "Porcelain Tile for Interior & Exterior" AIA: THPEI 17; IDCEC: CC-106826-1003; Presenter: Kristin Noble, Thorntree
♦2:15-3:15 @ Design House "Stone 101-Hard Surface Maintenance" IDCEC: #105790-1001; Presenter: Clean As A Whistle
♦3:30-4:30 @ Kitchen & Bath Concepts "LED Lighting Technology for Cabinet and Furniture Applications" ; 1 CES/HSW Credit Course AIA: # LLT101 0.1 HSW CEU Value;
IDCEC-Intermediate 2.8 Interior Design; Presented by Hafele Rep IDCEC: TBA
Make plans now to attend!
No RSVP necessary.